GreenBuzz Berlin e.V. is a non-profit association to support sustainability on a regional and international level through research, education and networking.
As such, GreenBuzz is a sector-overarching network, connecting people who work in sustainability and/or have a great passion for sustainable thinking. GreenBuzz Berlin was founded in 2014. A first series of events, the Sustainability Drinks, brought together well over 2000 people in the first three years. We are hosting monthly get-togethers, open for everybody interested in sustainability. We organise high-quality talks in a cozy atmosphere at every event.
Another cornerstone of the association is that it is set up according to a transferable blueprint concept. The idea is to create GreenBuzz chapters, which are easy to be replicated in other cities around the world in order to foster change towards sustainability. The global network was formed in Zurich in 2010, other chapters have meanwhile been started in Bern, Amsterdam, Edinburgh and Bangalore.
Our vision
GreenBuzz Berlin envisions a sustainable world where everybody thrives and contributes to a continuous and sustainable improvement of the status quo.
We believe that humans need to secure a planet that is worth living on – for all future generations to come. We imagine a world where every individual has the knowledge and competences to take responsible, educated decisions. In our connected world your decisions matter.
Our mission
Our mission is to facilitate people to connect and share knowledge on topics around sustainability, in order to support responsible decisions and actions. We want to develop and present new approaches that support sustainable societies and businesses to grow. We encourage collaboration and self-organization. GreenBuzz is continuously searching for new information to feed an educated decision making process.
To build the strong and active local community that makes Berlin more sustainable, we
Through these means, we believe that we can sustain long lasting relationships between the team, our partners and the rest of the community.
You can find our statutes (in German) here.
Key Areas
We have identified 10 key areas in which we find it important to conduct research and learn more.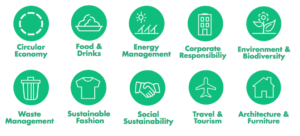 We study these areas and organize events related to these topics to disseminate information and to stimulate knowledge sharing.
Get involved
We are always eager to meet more people who are passionate about sustainability and interested in developing the GreenBuzz association and building a sustainable community in Berlin with us.
Click here to meet the team. Click here to read in which other ways you could get involved, and how to get in contact.