Feeding Berlin #4: Alternative food choices for a healthy diet within planetary boundaries
December 5, 2019 @ 7:00 PM

-

10:00 PM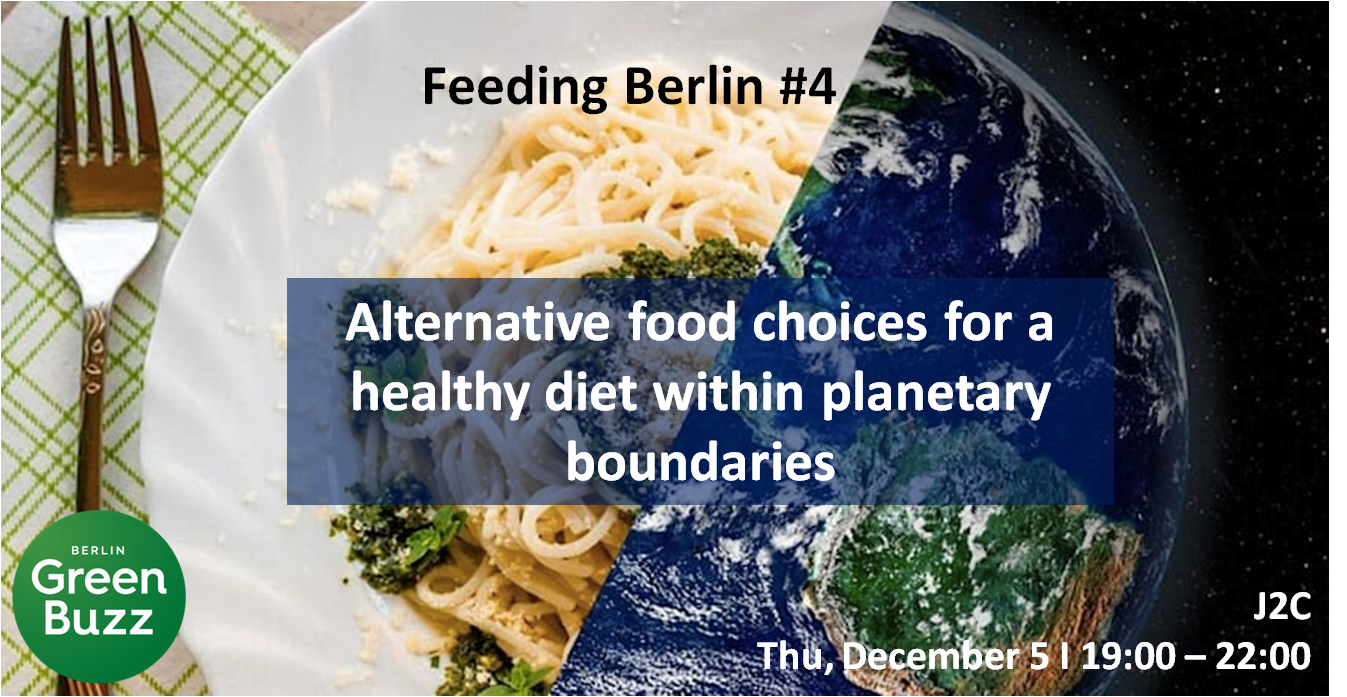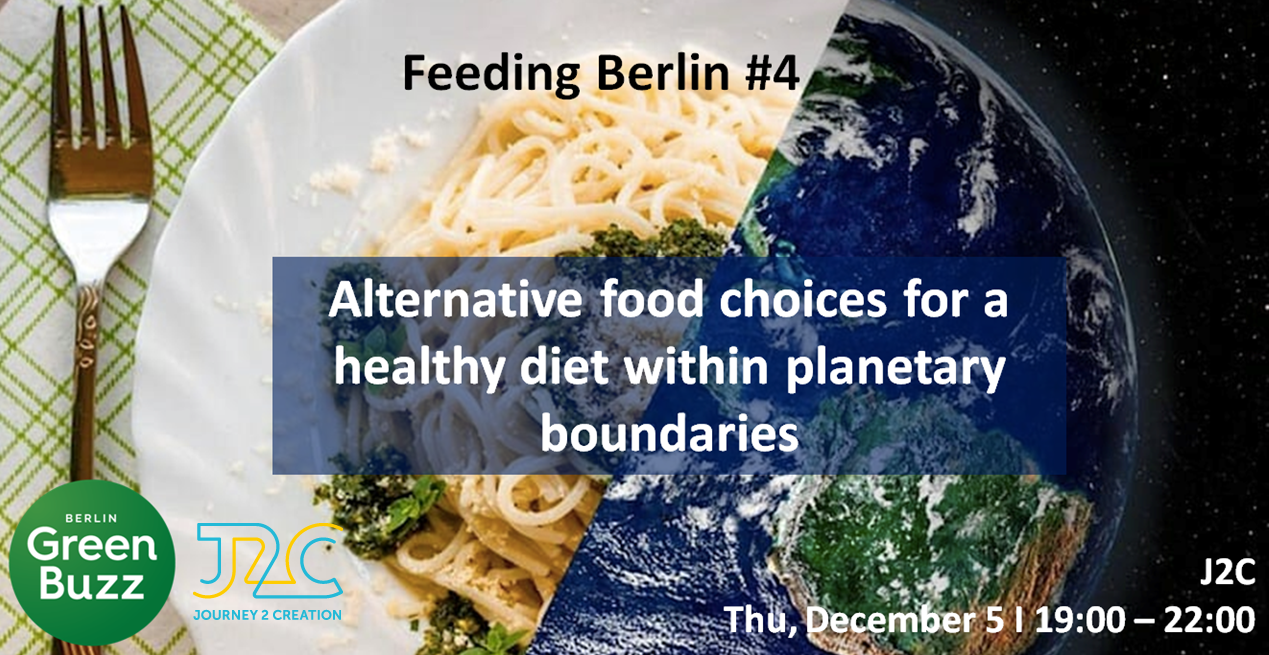 Can we feed a future population of 10 billion people a healthy diet within planetary boundaries? The answer is yes, but it will be impossible without transforming eating habits, improving food production and reducing food waste. When it comes to protein consumption, it will require a complete shift to more sustainable and low carbon alternatives. Among the options, meat substitutes that aim to reduce animal protein consumption are getting a lot of attention. 
In our next event, in collaboration with J2C and Food Kompanions, we will look at the different perspectives of alternative food choices. This event aims to understand the true sustainability of alternative sources of protein and explore the arena of food innovators that are working to address the global protein challenge.
The event will begin with an introductory overview that will cover a recent study about five alternatives to meat consumption as a starting point of discussion (Food Kompanions) followed by two input speeches of start-ups sharing their business cases for sustainable meat substitutes (MushLabs and Plantcraft). The final speaker (ProVeg Incubator) will talk about food innovators and how ProVeg's food accelerator programme is helping to shape the future of food through disruptive plant-based and cell-based food solutions.
Space is limited, so be sure to book your ticket now on Eventbrite ! 
Be on time – we will start at 19:30 sharp.
*Speakers*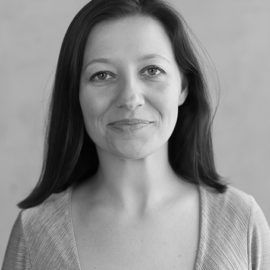 Olga Graf: Can we all become climavores?
Olga Graf is a researcher and designer who is passionate about food. Growing up in rural Siberia she got familiarized with farming, foraging, slaughtering and fermenting at early age. Her history, passion and professional path have finally lead her to co-founding Food Kompanions two years ago.
About Food Kompanions: Food Kompanions is a young agency that focuses on research and food systems design across the food supply chain. Following the nature- and human-centric approach, Food Kompanions has been able to complete projects in the fields of rural development, food craftsmanship and communal feeding.
About the talk: In her talk "Can we all become climavores?" Olga will be speaking about the necessity of changing our approach to meat consumption. Referring to several studies, she will be revealing possible alternatives to meat that exist today or are emerging. She will be looking at their advantages, disadvantages, ethics and climate neutrality.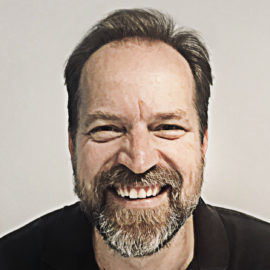 Csaba Hetenyi: SEVEN WAYS A HUMBLE HAM SANDWICH CONTRIBUTES TO CLIMATE CHANGE - AND THE WAY OF PLANTCRAFT HOW NOT TO DO SO
Csaba has been working as a project finance banking professional, he's been managing commercial real estates, and he runs his own financial institution that helps SME companies access European Union funds and financing. He often consults entrepreneurs on feasibility before taking on an investment - or assists investors with their due diligence. After a couple of acquisitions, Csaba became the CEO and co-founder of a pasta factory. Running the operation for the past two years, he developed a passion for food and decided to dedicate his business focus to this area. He currently lives and works in Budapest, Hungary.
About Plantcraft Innovations Ltd.: Plantcraft is a plant-based protein innovator. Our plant-based deli range is soy and gluten free, clean-label and nutrient-dense – all developed using our unique foodtech IP, based on 20 years of research.
About the talk: While the majority of the plant based innovation is aimed at dairy and beef, the devastating impact of pork consumption goes mostly unnoticed. Air toxicity around hog farms, methane and other GHG produced by the animals and their manure, wasteful feed to food ratios, overflowing waste lagoons are not getting great attention in the news, as the demand for pork products continues to rise. And in the US and Europe, most of that demand is driven by the deli meat category. Plantcraft is a foodtech innovator and this is their story about how they changed from developing pasta products to full focus on alternative deli meats.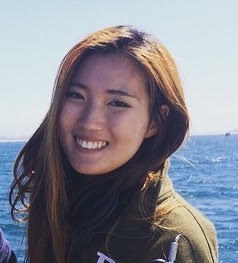 Yunha Hwang
Yunha is the head of data science at Mushlabs. She studied computer science and geomicrobiology at Stanford University and previously conducted research in computational genomics. She is passionate about applying our collective biological knowledge to restore circularity in our economy, particularly in our food system. Her work at Mushlabs ranges from data analytics, scientific research to science communication. Trained in computer science and bioinformatics, she believes that data can power innovation in biotech and foodtech industries. She was born in South Korea, grew up in the UK and lived in California until she moved to Berlin two years ago.
About MushLabs: Mushlabs is a technology-driven company that produces food from edible mushroom mycelia. Our fermentation platform allows us to unlock the potential of an overlooked kingdom of life - fungi - as a foodsource. Mushlabs is dedicated to building solutions that change the way we consume food, by producing food that is good to our senses, our bodies and our planet.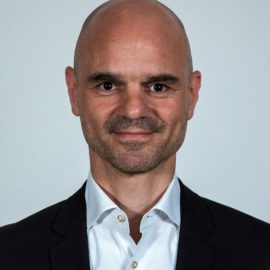 Albrecht Wolfmeyer: Starting up strong: Promoting innovation in the plant and cell-based food start-up sector
Albrecht Wolfmeyer heads the new ProVeg Incubator, the first incubator for innovative plant-based and cultured animal products. He has extensive professional experience in international profit and non-profit organizations and is an expert in NPO management, marketing and communications, strategy and project lead. Albrecht was the co-founder and managing director of an online fundraising startup. He studied in Berlin, Toronto, Paris and Fribourg.
About ProVeg / ProVeg Incubator: ProVeg is a leading international food awareness organisation working across four continents, with ongoing plans for future expansion. We are a fast-growing organisation with global reach and ambition. The ProVeg Incubator is the first incubator in the world to facilitate a programme that supports startups which aim to transform global food culture – by replacing traditional animal-based foods with plant-based and cultured animal products. Based in Berlin, the ProVeg Incubator aims to give emerging entrepreneurs the tools to create, collaborate, grow, and scale.
About the talk: The ProVeg Incubator supports startups that aim to transform the global food culture by replacing traditional animal-based foods with plant-based and cultured animal products. Based in Berlin, the ProVeg Incubator offers a challenging programme that is customised to every batch of new intakes, giving emergent and established entrepreneurs the tools to create, collaborate, grow, and scale. Get to know our strategy, services, and partners and hear about the most promising startups and their disruptive innovation potential.
*Agenda*
19:00 Doors open
19:30 Welcome & Intro
19:40 Olga Graf – Food Kompanions 
20:00 Yunha Hwang – MushLabs
20:20 Csaba Hetenyi – Plantcraft
20:40 Albrecht Wolfmeyer – ProVeg Incubator
21:00 Q&A
21:15 Quick Pitches
21:30 Networking
22:00 End
*Quick Pitches*
There will be a quick pitches session after the presentations which gives you the opportunity to present your project/organisation/company/idea in 1 minute. 
Sign up below to get your information on our website!