Feeding Berlin #4: Alternative food choices for a healthy diet within planetary boundaries
December 5 @ 7:00 PM

-

10:00 PM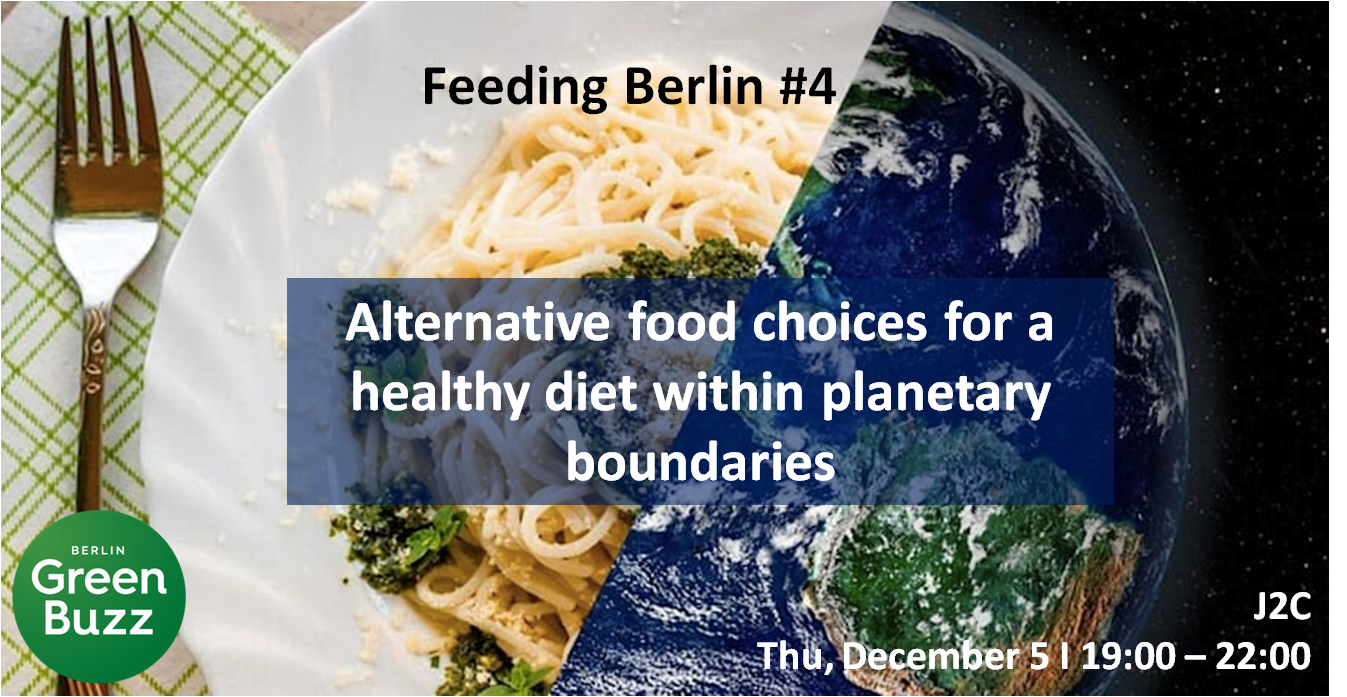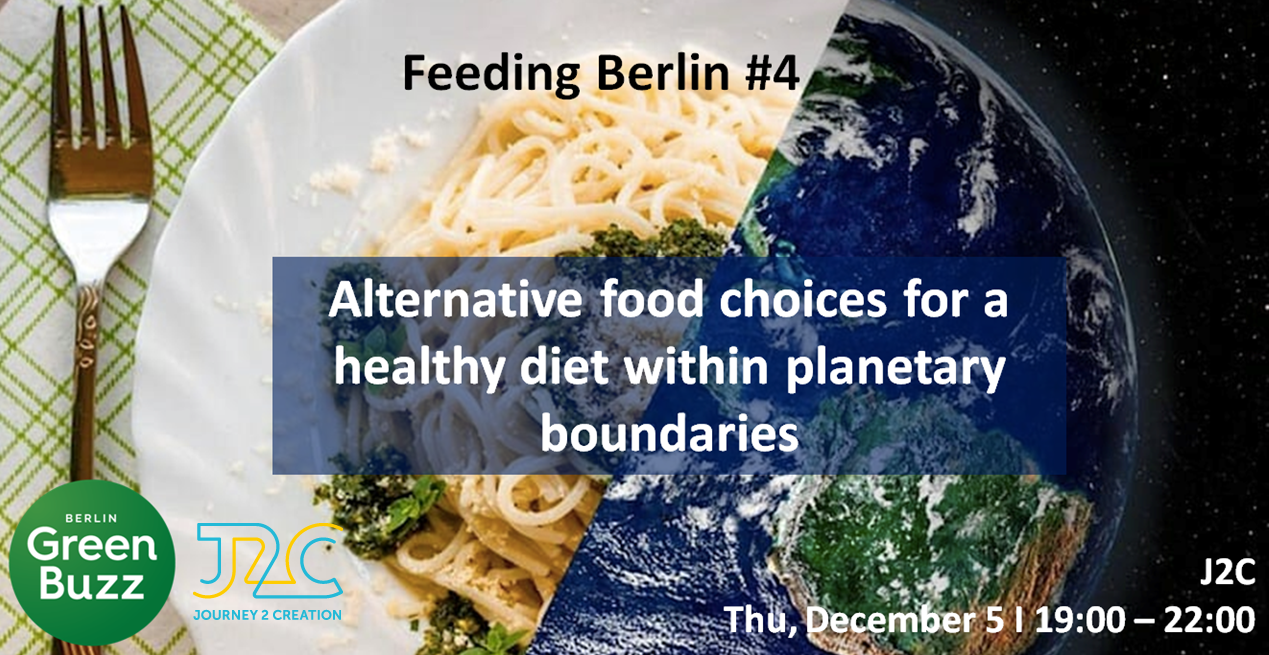 Can we feed a future population of 10 billion people a healthy diet within planetary boundaries? The answer is yes, but it will be impossible without transforming eating habits, improving food production and reducing food waste. When it comes to protein consumption, it will require a complete shift to more sustainable and low carbon alternatives. Among the options, meat substitutes that aim to reduce animal protein consumption are getting a lot of attention. 
In our next event, in collaboration with J2C and Food Kompanions, we will look at the different perspectives of alternative food choices. This event aims to understand the true sustainability of alternative sources of protein and explore the arena of food innovators that are working to address the global protein challenge.
The event will begin with an introductory overview that will cover a recent study about five alternatives to meat consumption as a starting point of discussion (Food Kompanions) followed by two input speeches of start-ups sharing their business cases for sustainable meat substitutes (MushLabs and PlantCraft Food). The final speaker (ProVeg Incubator) will talk about food innovators and how ProVeg's food accelerator programme is helping to shape the future of food through disruptive plant-based and cell-based food solutions.
Space is limited, so be sure to book your ticket now on Eventbrite ! 
Be on time – we will start at 19:30 sharp.
*Speakers*
Olga Graf – Food Kompanions 
Yunha Hwang – MushLabs
Csaba Hetenyi – PlantCraft Food
Albrecht Wolfmeyer – ProVeg Incubator
*Agenda*
19:00 Doors open
19:30 Welcome & Intro
19:40 Olga Graf – Food Kompanions 
20:00 Yunha Hwang – MushLabs
20:20 Csaba Hetenyi – PlantCraft Food
20:40 Albrecht Wolfmeyer – ProVeg Incubator
21:00 Q&A
21:15 Quick Pitches
21:30 Networking
22:00 End
*Quick Pitches*
There will be a quick pitches session after the presentations which gives you the opportunity to present your project/organisation/company/idea in 1 minute. 
Sign up below to get your information on our website!
Quickpitches of this event
Moyee Coffee
Moyee is a specialty coffee company with a mission to set new, fairer standards in the coffee industry. Currently, 90% of the total value-added of coffee is generated in the Global North, whereas only 2% of that value is left in coffee-producing countries in the Global South. For most coffee farmers, this is not enough to provide a dignified standard of living for themselves and their families. This needs to change. That's why Moyee not only sources beans in Ethiopia, but roasts them there as well. This means more jobs and more money stays within Ethiopia, as well as an excellent cup of coffee that we can all enjoy.
Contact: Marielle Dado (
email hidden; JavaScript is required
)
Kühne Logistics University
I am a PhD Candidate at the Kuehne Logistics University focusing on the topic of sustainable food supply. In April 2019 I published my first paper "Can Organic Regional Agriculture Feed the Regional Community? A Case Study For Hamburg and North Germany". For my next research project I will expand this question to see if regional self sufficiency is not only possible in Hamburg but also other parts of Germany and perhaps Europe. This will be based on different diet scenarios (including reducing meat) as well as the natural resources available (modeled using ArcGIS). The chosen method is LCI/LCA, but I am still in the early phases of the development. I would be happy to pitch this idea for feedback from the scientific community and potentially for research contacts.
Contact: Sarah Joseph
Related Events