More than ever, communities like GreenBuzz are giving passionate leaders the opportunity to draw on each other's strength and experiences to drive to a more sustainable and equitable world. At a time that we need more leaders and trees, GreenBuzz is a welcome addition that I fully endorse.
Paul Polman
CEO, Unilever; Chairman, World Business Council for Sustainable Development
Upcoming Events
There are no upcoming events at this time.
Recent blog posts: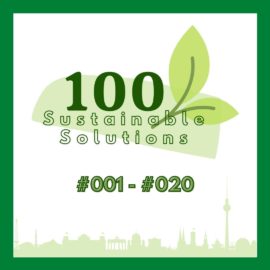 GreenBuzz Berlin is on a mission to find 100 Sustainable Solutions to present to you, our community. Our goal is to highlight interesting and innovative people, projects and companies that are working towards sustainability and to share the information and wisdom that is already out there. Now that we have introduced you to the first twenty solutions – in no particular order – we want to take a look back.
Donate
Support GreenBuzz Berlin with a donation!
Donate
About Us
GreenBuzz Berlin e.V. is an association that supports sustainability on regional and international level through research, education and networking. We build an active community to make the city more sustainable.
Read more...