Drinks At My Place – Online Networking Event
April 28, 2020 @ 7:00 PM

-

8:30 PM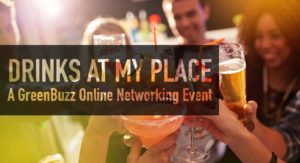 'Social distancing' doesn't mean being anti-social. We invite you to join our small and cozy Greenbuzz community networking event. Why? Because we want to help grow long-lasting connections and won't let our isolation stop us. BYO beer, juice, tea, snacks. 
This will be a bit of an experimental event, where we will first come together then divide into smaller groups to share our thoughts and stories on a pre-selected range of topics:
Here are our conversation starters:
What habits and tips can you share that have helped your life during these home-isolation times?

For instance minimalism, healthy diets, good routines, self-care, home office styles, digital cleaning, etc?

What is your opinion of the different international measures that countries have taken in facing our current Coronavirus crisis?

How do they affect you or your loved ones?  Do you see "being a global citizen" differently because of this? How do you view travel now?

For some light-hearted relief, let's share favourite stories, memes and videos we've seen online.

Positive, funny and/or uplifting, maybe around sustainability.
This event is open for anyone to join, but is limited to the first 30 people who log in on the night so that we can have some real conversations and sharing.
We look forward to meeting some of you and having a chat over a drink in the comfort of our homes.
Please register at Eventbrite:
https://www.eventbrite.ie/e/drinks-at-my-place-online-networking-event-tickets-102997093078
Zoom ID & Password will be sent to you via email once you register with our Eventbrite link, so be sure to do it soon.