ONLINE SCREENING: GreenBuzz Berlin & flow : europe // Film Night – Confluir
June 11, 2020 @ 8:00 PM

-

10:00 PM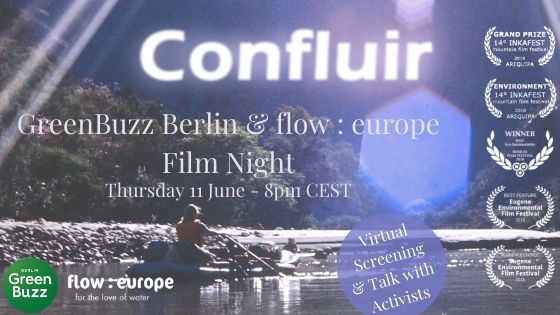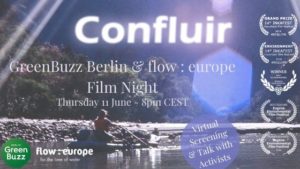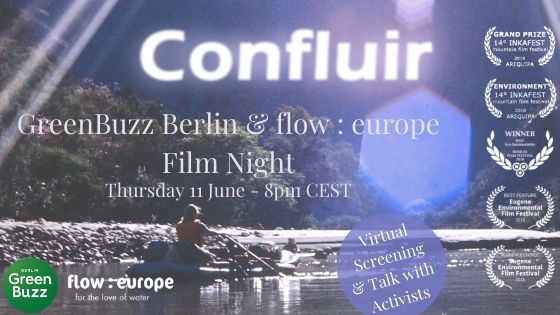 Please Note: this is an online event — please join us via Zoom at 8pm –> https://bit.ly/3hepyq8
✨ What does environmental activism look like in practical terms? What does it take to protect land rights, ecosystems and livelihoods? What role can researchers play in protecting a river?
Join us for an evening in collaboration with flow : europe and a preview of their River Film Fest / Flussfilmfest Berlin 2020. We will screen and discuss CONFLUIR, a powerful film about a group of international scientists, river experts and activists who came together to research, explore and protect the Marañón River – a river which cuts through the Andes Mountains and helps sustain resident communities as well as the most diverse ecosystem on Earth.
"CONFLUIR looks at the most important river you've never heard of. The Marañón River is the principle tributary of the Amazon, the world's longest river. American whitewater enthusiasts have dubbed it "the Grand Canyon of South America", but little is scientifically documented about the ecological significance of the river to the Amazon biome. As the energy demands of Peru increase, the currently free flowing Marañón River faces over 20 proposed dam projects, two of which have already been approved. An international team of scientists and river experts spent 28 days rafting the Marañón to document the natural and cultural resources that would be eminently impacted by the proposed dams and to meet the people who live along the river and rely on it. Directed by Henry Worobec." (hollywoodtheatre.org)
? River Film Fest (https://www.riverfilmfest.eu/) celebrates free rivers, clean water, and freshwater life, presenting an international selection of environmental and outdoor films in cities around Europe. Sharing stories and discussing scientific insight, it's all about changing the conversation about rivers and inspiring action.
? Movie Trailer: https://www.youtube.com/watch?v=ri7Wvmli-O
? Flow of the evening ?
20:00: Welcome & Introductions
20:10: Introduction to River Film Fest / Flussfilmfest – Tobias Schäfer (flow : europe)
20:15: Virtual Screening – Clonfluir
21:00: Breakout Group Debrief & Reflections
21:15: Q&A and open discussion with activists Vera Knook (The River Collective) & Luigi Marmanillo Cateriano (Marañón Waterkeeper)
22:00: Close ♥
Speakers: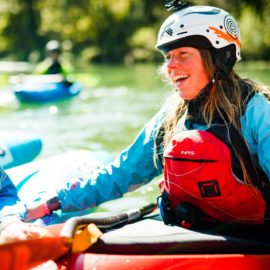 M.Sc. Vera Knook
After graduating as a hydraulic engineer from TU Delft, I joined the Balkan River Defence team to organise the next Balkan Rivers Tour; a activist tour to draw attention towards the unguided hydropower development in the Balkans. Through organising the Students for Rivers Camp, I aimed to involve students and young researchers that are passionate about rivers and want to put their knowledge to action. We found the River Collective and are currently organising our second Students for Rivers Camp in Montenegro. As a kayak instructor and trip organiser, I visited the Marañón River in Peru last year and am now hooked to the beauty of this river and see only reasons to keep it free-flowing.
About River Collective: The River Collective is a network of students, academics, researchers, conservationists and kayakers that have a passion for free-flowing rivers. They combine their resources and expertise to effectively protect rivers from unguided hydropower development and other environmental threats. We establish a strong collaboration between the world of science and local river conservation, involving all fields of knowledge through organising events and supporting innovative research.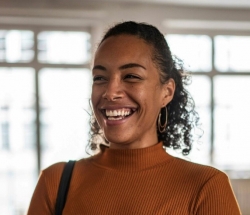 Latest posts by Samie Blasingame
(see all)