Sustainability Drinks – Transforming our World!? The Sustainable Development Goals
March 9, 2017 @ 8:00 PM

-

11:00 PM
On 25 S
eptember 2015, the 2030 Agenda for Sustainable Development was adopted at the UN summit in New York. It takes the form of a pact on the world's future and is intended to help enable all people in the world to live a life of dignity. The 17 development goals link the principle of sustainability with economic, ecological and social development. Thus, a perfect match for GreenBuzz Berlin and its´ network.
The event sheds a light on how the global agenda addresses all countries in the international community, what it means for German politics and how everybody needs to work together to ensure that there can be sustainable development for all. For the first time ever, poverty reduction and sustainability have been united in a single agenda.
Come and join us for interesting insights on sustainable politics from a global, national and local perspective.
Insights are given by
Jonas Burgheim: Sustainable Development Goals
Jonas is a Senior Policy Officer at the BMZ, where he deals with sustainability standards and the national partnership for textile standards. He is also the incorporator of Sport Cares, a consultancy for sports policy. He draws from his experience acquired as Policy and Projects Officer/Deputy Head of the United Nations Office on Sport for Development and Peace (UNOSDP). His level of expertise attained during the responsible work with a wide range of policy partners, a broad network in the sport policy field, his experience from working in international relations just like in a leading European research funding foundation. His scientific background as a Bachelor of Laws and Master of European Law focussing on Human Rights and Foreign Trade as well as with his experience in public policy, paved his way to for his professional career in the development world.
About Ministry of Economic Cooperation and Development (BMZ): Consultancy for Sport Policy and Political Affairs - focus on International Policy, Human Rights, Sustainable Development, Internationalisation and Corporate Social Responsibility Strategies, Structural Analysis,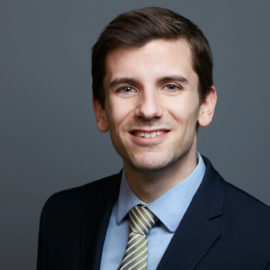 Kai Philipp Schinck: Advocating for Sustainability - The Parliamentary Advisory Council on Sustainable Development
Kai Philipp Schinck is a Policy Advisor to the chair of the Parliamentary Advisory Council on Sustainable Development of the German Bundestag . His tasks include coordinating the council's respective activities and advising its chair on matters concerning the interdisciplinary field of sustainability. Schinck studied Political and Administrative Sciences in Konstanz, Lyon and Potsdam.
About Deutscher Bundestag | Office of the member of the German Bundestag Andreas Jung: Constitutional and legislative body
About the talk: Germany has implemented a unique, threefold governance architecture for sustainability, spanning across different levels: It comprises the State Secretaries' Committee for Sustainable Development, the German Council for Sustainable Development, and the Parliamentary Advisory Council on Sustainable Development, which embeds sustainability in the federal parliament. My talk will address how the parliamentary advisory council operates in general and how it tackles the challenges of the 2030 Agenda.
Victoria Leonhardt
Operations Manager for ShareTheMeal (World Food Programme) who presents the first app against global hunger #1
About ShareTheMeal: ShareTheMeal is the award-winning app by the World Food Programme (WFP). With just a few taps on their smartphones, users can share the(ir) meal with a child in need. EUR 0.40 feeds one child for one day.
Since launching globally in November 2015, more than 770,000 people have downloaded the app and shared over 11 million meals with children in need. ShareTheMeal has received several awards for its design and innovative character, most recently a Glomo Award for the mobile contribution to the UN Sustainable Development Goals. We have been featured on the Apple App Store and named among the Best Apps 2016 by Google Play.
* Doors open at 19:00
* Speakers start at 20:00
* Quickpitches at 21:10
Please sign up for tickets on eventbrite.
Quickpitches of this event
#RealMatterz
#RealMatterz is a profiling portrait series featuring the minds and brands driving sustainable fashion forward. Use #RealMatterz to tell you own story - it really matterz ?! The intention is to shine a bright light on those who are making a difference, making the topic more attractive and accessible for viewers. By profiling the portrayed You can see how IT IS POSSIBLE to work sustainably.
Contact: Cherie Birkner (
Me@cheriebirkner.com
)
Protellus
At Protellus we are working with the human centred method Design Thinking. Educated at the HPI d-school, we now want to link Design Thinking more to sustainability topics. Our philosophy is Human centred design thinking, that keeps also focus on the needs of the next generation.
Contact: Kilian Karg
Perspective Daily
Perspective Daily is an online-medium for solutions-oriented journalism. We write long-reads on topics with a focus towards a just and equitable future for all. Implicit, we advocate to making the SDGs work in the day-to-day context. We show connections instead of writing about singular issues. We offer discussion fora in which our members and authors engage in constructive dialogue. We are financed exclusively by our members, ad-free without an investor or publishing house. An annual membership costs 60 Euro, get in touch for 14-day "Probe-codes" that allow you full access to the archive after the pitch. I carry some with me 🙂
Contact: Torsten (
torsten@perspective-daily.de
)
SoLaWi Waldgarten (CSA)
SoLaWi Waldgarten is a community-supported agriculture project with a farmer in Brandenburg and around 90 members in Berlin and Potsdam. Members get vegetables, fruits and other groceries once a week which they can pick up at designated pick-up points in Friedrichshain, Kreuzberg and Potsdam. Depending on the time of year the amount is more than enough for 1-2 people. The farmer produces only to a high quality (Demeter certified) and applies sustainable methods to land and plants like soil conservation and permaculture. With the CSA model the farmer gets a fixed and fair price. A few times a year members go out to the farm and help planting and harvesting, which is a lot of fun and a great experience.
Join our community, get delicious food and even help to produce it yourself! There are free places for the new season starting in May.
Contact: James Topping (
info@solawi-waldgarten.de
)
Ellery Studio
Ellery Studio ist ein Unternehmensberatung für Kreative Strategie. Zusammen mit unseren Kunden entwickeln wir Visionen, Strategien und Konzepte für Produkte, Dienstleistungen und das gesellschaftliche Zusammenleben. Dabei nutzen wir das analytische Handwerkszeug von Consultants und kombinieren es mit der professionellen Kreativität von Designern und Künstlern.
Contact: Katrina Günther (
hello@ellerystudio.com
)
Data> Urban Scaling & Sustainable Cities, PIK Potsdam
(Master Thesis) I am looking for someone who can share their expertise on data availability towards the indicators for SDG 11, Sustainable Cities.
Contact: Vamsidhar Akuraju (
Vakuraju@gmail.com
)
LoveWaves
On LoveWaves conscious citizens and businesses focussed on sustainability form an alliance for a fair and green future. We don't wait for states and take matters in our own hands to turn more and more advertising budgets into donations to fight poverty, to protect the environment and to serve public good. At the same time we make innovative solutions more visible so that they become more known and will be copied more often locally. LoveWaves hasn't launched yet but we built a private Beta that is to 95% ready to be used (please don't forward the URL, thank you!).
Contact: Oliver Schneider
ecoligo GmbH
ecoligo is a solar utility that provides clean, low cost solar energy to businesses in developing countries. We finance the solar projects through our crowdinvesting platform.
Contact: Emma Patmore (
emma.patmore@ecoligo.com
)
eHealth Africa
Since 2009, eHealth Africa has brought new approaches to the development of data-driven technology solutions. Our projects aim at strengthening healthcare in West Africa. We supported the Ebola response in 2014/2015, and are helping the Nigerian government to eradicate polio. We also design and implement software solutions in Liberia, Sierra Leone and Guinea.
Contact: Natalya Nepomnyashcha
Latest posts by Carolin Kruse
(see all)