Sustainable Advertising: Can Marketing Improve our Society?
October 19, 2017 @ 8:30 PM

-

October 20, 2017 @ 12:30 AM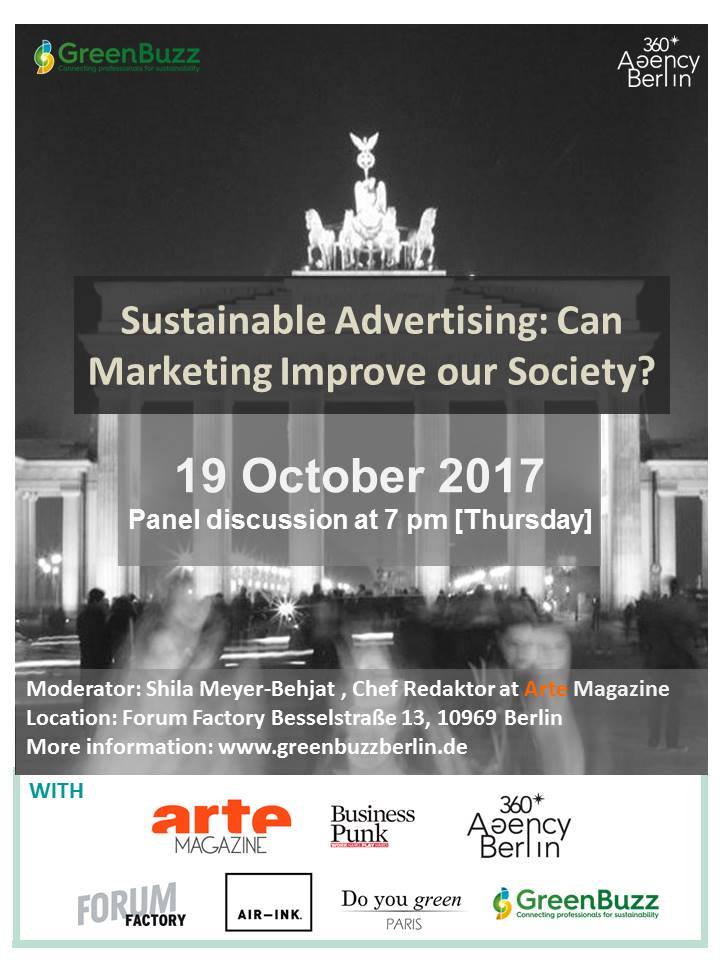 GreenBuzz Berlin & 360 Agency Berlin are an inspiring conference around the impact of marketing on the 19th of October at Forum Factory Berlin: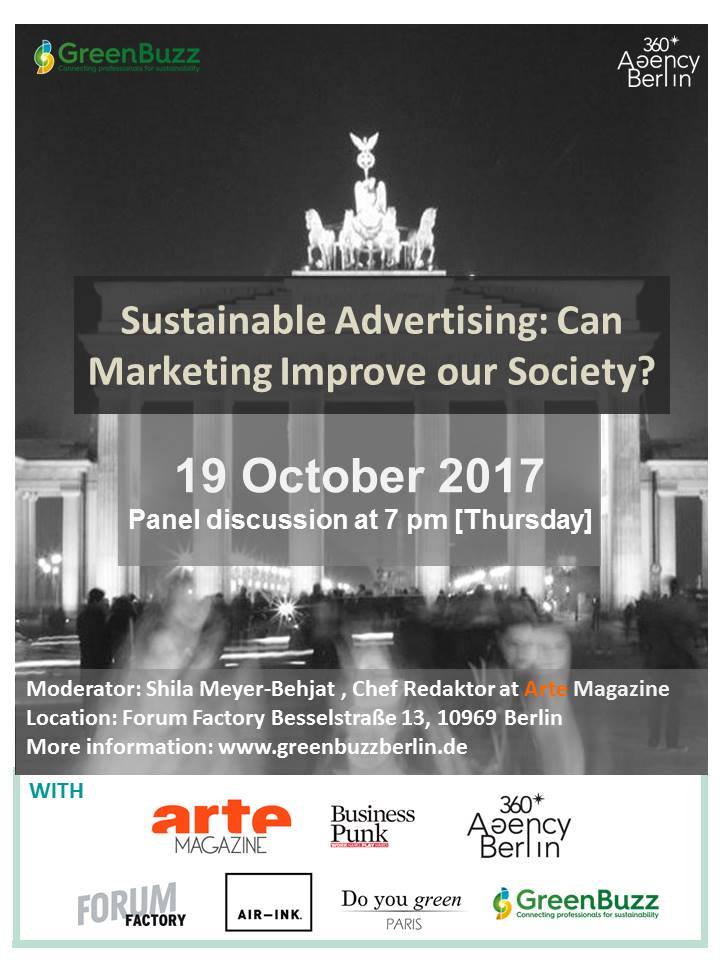 ARTE MAGAZINE will be moderating, 360 AGENCY BERLIN supporting exclusively sustainable brands, will introduce their vision and initiative.
WEF with Claudio Cocorocchia from the World Economic Forum in Switzerland will share a survey from his department (shaping the future of communication) which demonstrate that there is an increasing need of respecting online users data privacy from the advertising industry.
AIR INK will introduce their great invention from India transforming co2 emission from trucks into ink for outdoor advertising & Sophie Young from Do you Green Paris will introduce how she produces and communicate in a more sustainable way from a brand perspective.
A Panel of discussion will welcome all your questions on the second half of the conference.
*Our Agenda*
18.30 | Open Doors & Networking
19:00 | Presentations
* Andrea Henao | 360° Agency
* Anirudh Sharma | Air Ink | sustainable marketing initiative from Tiger Beer [via skype]
* Stefan Hall | World Economic Forum | survey on online users data privacy
* Sophie Young |Do You Green Paris | brand communicating in a sustainable way
20.30 | Panel Discussion with our Speakers Above
* Moderation: Shilah Meyer-Behjat| Arte Magazine
21:30 | Quickpitches & Time for Networking
22:00 | End
Quickpitches
There will be a quickpitch session after the main panel which gives you the opportunity to present your project/organisation/company/idea in 1 minute.
Looking forward to see you and bring a new stone in this fast changing world!
Quickpitches of this event
Developing an app to mitigate high crime rate and public transport delays in Kampala Uganda
Criminal acts such as rape, murder, and theft are some of the growing "society traumas" as clearly elaborated in the Uganda 2016 Crime and Safety report. This normally happens when walking back home on the lonely dark streets of Kampala, the capital of Uganda where a bigger percentage of the working population walk back home in the surrounding suburban areas. This has seen some resorting to leaving work early before dark which leads to underperformances and low productivity. Those who can afford late night taxis that are relatively cheaper, wait till late to leave work, this draws on family time and to an extent contributing to family breakages.
The app aims at bringing pedestrians who are taking the same directions together. Pedestrians would be able to keep track of the convenient time intervals when fellow pedestrians are taking their routes of interest to and from work. Moving together in groups is believed to boost security as each individual looks out for the other.
The public transport system in Kampala does not depend on timetables, but rather on whether a commuter bus is full or not. This has seen passengers spending a lot of productive time waiting in the commuter buses to fill up. The app would allow passengers to keep track of commuter buses heading in their direction of interest, parking points and the number of passengers left to fill up without being in the bus physically.

Contact: Tonny Kukeera (email hidden; JavaScript is required)
issmeet
A social enterprise providing a one stop solution to bring people and cultures together, reducing unemployment, hunger and food wastage in the process.

Contact: Victor Olawuwo
Flying Roasters
Flying Roasters is passionate about quality, acting in solidarity and sustainability. Working only with small- and medium-sized democratically organized cooperatives. Flying Roasters teams up with other coffee roasteries in Europe to form Roasters United in order to purchase green coffee together, share the import costs, and share knowledge.

Contact: Nadine (email hidden; JavaScript is required)
Bike Citizens
We are Bike Citizens and we want to get more people cycling. To reach that goal we have the full package. It started with Finn, our universal smartphone holder that attaches every phone to every bike, in a simple and clever way. Now more than 80.000 people in cities worldwide use their smartphones to track their everyday cycles with our Bike Citizens App. With more than one million journeys and six billion kilometres tracked our users actively help create better conditions for cycling in their city, as we use the cycling data to evaluate, simulate and monitor bike traffic. With sharing our knowledge we help cities become more bicycle-friendly, thus creating a cleaner, healthier and more sustainable city.

Contact: Charlotte Keuer
Binee
We make the recycling of old and broken electronic devices easy, attractive and sustainable by linking it with digital advertising.

Contact: Konstantin Seufert (email hidden; JavaScript is required)
Freelance consultant in environmental policy seeking opportunities
I'm a freelance consultant in environmental economics and policy here in Berlin with a lot of quantitative research experience, strong writing and speaking experience, most recently in clean transportation. I also have first-hand experience life cycle analysis, which would be valuable for circular economy-related topics. I am seeking more freelance or full time opportunities in Berlin, so please let me know if you have any ideas.

Contact: Chelsea B (email hidden; JavaScript is required)
ReThink Festival by ReFashionReFood
ReFashionReFood is an open-source platform and annual festival promoting sustainability in food and fashion. Our mission is to find and spread DIY micro-solutions for macro-problems. We are artists, activists, researchers, journalists, students, and designers who offer workshops, performances, dinners, parties, and discussions on DIY culture, upcycling, waste cooking, craftivism, organic farming, and intercultural exchange. Using fun and manageable tools, we educate and empower local communities to seek interdisciplinary, collaborative methods of addressing global environmental and social imbalances. The annual ReThink Festival happens in Berlin, Prinzessinnengärten.

Contact: Runa Juhanisdotter (email hidden; JavaScript is required)
Ticket required
Please sign up for the event here. Looking forward to see you and bring a new stone in this fast changing world!