Sustainable Holiday Hacks: A Virtual (BYOB) Weihnachtsmarkt
December 2, 2020 @ 7:00 PM

-

9:00 PM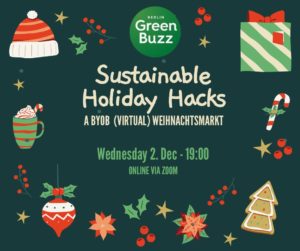 It has been a crazy year! We haven't had as many opportunities to meet and connect with the GreenBuzz community as we would have liked, but before we (finally) bring 2020 to an end we would love for you to join us for a little holiday spirit!! 
Your plans might be a little different this year – some of you may not be able to celebrate how you'd like or make it home to see your family – but you are warmly invited to an evening of fun, games and inspiration at our virtual Weihnachtsmarkt!! 
Join us for an online space/roundtable to share tips & tricks on how to reduce waste during a time of year that often produces so much of it. We will also be highlighting environmentally-conscious small businesses that you should know about and support if you can. You can also expect a bit of holiday trivia, some networking and a little musical intervention as well! Get your hausgemachten Glühwein ready and see you on the 2nd!
Agenda
19:00 – Welcome & Introductions
19:15 – 1:1 Networking
19:20 – Trivia Round #1
19:45 – Sustainable Tips & Tricks
*** Meg Koch, Discover Your Shade of Green
20:00 – 'Weihnachtsmarkt Stroll' Small Business Round & Gift Ideas

20:20 – Trivia Round #2
Meeting ID: 935 8255 1293
Passcode: Greenbuzz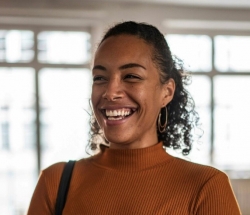 Latest posts by Samie Blasingame
(see all)