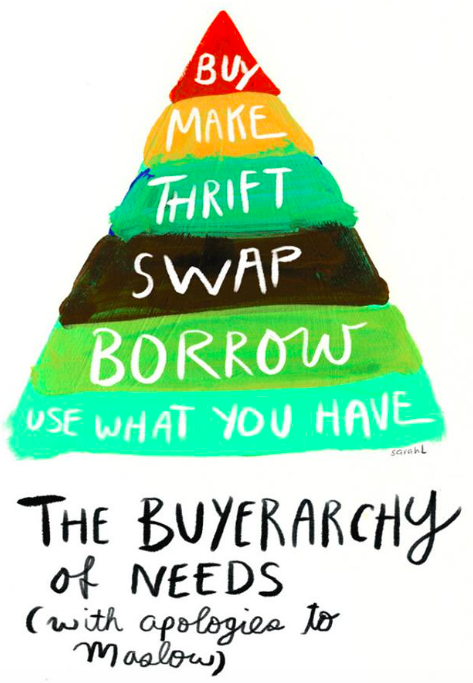 The hack
It probably happens to all of us at a certain point in our lives: our clothes are either fallen to pieces, do not fit anymore or need slight changes. And the easiest option is to just toss them away and buy new ones from one of plenty cheap fast fashion brands. And then they break again in a short time or are "out of fashion". But what if we do not look at our garments as disposable goods but instead give them a second try by getting them repaired or upcycled?
Why is it green?
In the textile industry, 13,1 million tons of textiles are thrown away worldwide every year. That number is devastating! Only a very small percentage of it is either recovered for recycling or reuse. The rest is going straight into landfills occupying 5% of its all space. In the UK, approximately 0,8 to 1 million tons of textiles are sent to landfills each year. Hong Kong – a big market for textile production sends 253 tons of textile to landfills every day.
If only we knew that a whopping 11 000 liters of water are used for the production of each pair of jeans which is enough to drink for 14 consecutive years.
You can see that our actions as a textile industry purchasers have a tremendous effect on our environment. By changing our habits and attitude towards our clothes we can reduce our environmental footprint significantly. Besides, by re-creating your clothes you increase their lifecycles and learn how to sustain your life independently.
Impact & Easiness
According to Greenpeace, Germans possess 5.2 billion of clothes, of which 40 percent is rarely or never used. About 65 percent of respondents taking part in their survey throw away clothes just because they do not like it anymore. And we, the consumers, are mainly responsible for the growing textile waste. since a very little amount of consumer used clothing is recycled. This is why we should reuse and repair – the impact is very obvious: Avoiding ever growing waste around the world. Besides, the textile industry is also a big contaminant of water, since around 8000 synthetic chemicals are used during the production phase that ends up in our waters. Next time, think twice before buying loads of cheap garments most of which do not only need many resources for production but are also dyed with chemicals.
It is relatively easy to repair your clothes at home if you know how to do it or give a small effort to learn the procedure. Learning how to do stitches, sew a button on a shirt or darning a hole in a sweater would turn into a fun process – you master the basic skills that you going to use all your life.
You can also bring your clothes to repair cafes where people help each other to fix things, exchange advice and use tools available right at the location. There are also sewing courses available around Berlin. In more difficult cases where you need first-hand help from a tailor to execute drastic changes on your clothes, hem your jeans or fix the zipper, you can look for "Änderungsschneiderei" on gelbeseiten.de.
Last but not least, keep in mind that purchasing high-quality, sustainable products will save you more time, money and effort from repairing them several times to increase their lifetime. It is in your hands to value garments not just as frequently disposable things, but as life companions which could serve us much longer than a few months or a season.
Sustainability Score
Impact:     ⭐️⭐️⭐️⭐️
Easiness:  ⭐️⭐️⭐️⭐️
We are interested in your stories! Just leave a comment below.
Latest posts by Khatira Najafova
(see all)