It's that time of year again, bring on the festivities, the food, the gifts. A time of indulgence. This year when you're planning your Christmas celebrations, you might like to take a couple of minutes to consider sustainable options. Here are my practical tips for being a green Berliner in the festive season:
FOOD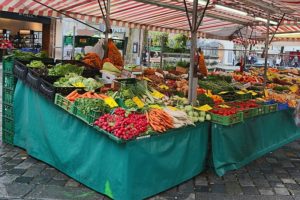 Source: Wiki Commons
Buy local: Eyeing up one big shop at the supermarket the day before Christmas? Plan ahead and find out when your local fruit and vegetable market is open. Consider whether there are local, seasonal, bio or organic options to include in your recipes.
SIRPLUS also offers many high quality products that have been rescued from larger supermarkets.
Plan your meals – What are you going to eat? Are there family recipes that you cook every year or are you going to try something new this year? Begin by looking up the recipe and deciding how much you need to buy and where you can buy your ingredients. 5 minutes of planning helps you to remember what you need, avoid overbuying in a panic, and reduces food waste at the end when you make the perfect amount.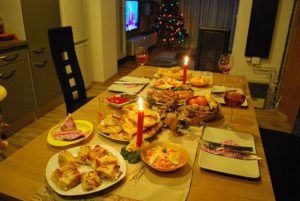 Source: Wiki Commons
But what if I forget something? Don't worry, if it's just a cup of sugar or a sprinkle of nutmeg, try asking a friend or neighbour.
Sharing left-overs: Immediately after Christmas, if you have left-overs you can offer them to neighbours as well!
Food sharing apps –  Download  – Too good to go – rescue food from restaurants and cafes,
Nebenan – a community app in Berlin for communication with your neighbours
GIFTS
Yes, we all know the pressure of buying the perfect gift – Should it be a surprise? Is it exactly what they want? Which brand should I choose? Buying token gifts out of pressure and stress can lead to overspending, unwanted gifts and landfill.
Some ideas for greener gifts this year:
Choose your Christmas market wisely: One of our favourites in Berlin is the Alt-Rixdorfer Weihnachtsmarkt. Although it's only on for one weekend in December (7th-9th Dec. 2018), this is your go to market for locally produced goods. Without compromising on quality and authenticity, you can find everything you need in one beautiful square, knowing your money is going towards a local charity or Not-for-profit.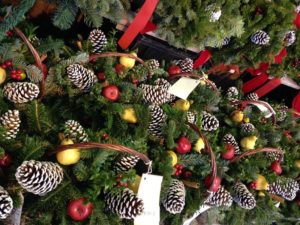 Source: Wiki Commons
Practical gifts: Do a little research on your recipient and think of a useful item that you know they will use. Depending on your relationship, maybe even ask them for ideas, then you get to choose the final design and look up ethical brands.
Donations: For the person who literally has everything, what about making a donation on their behalf? There are plenty of great charities who could put that money to good use, you'll feel positive and your family member will get their fix of good karma as well.
Experiences: For the gift that gives again, what about tickets to an event or concert? An invitation or ticket promises the recipient something to look forward to and an experience to remember.
Book exchanges: The minimalist's dream of avoiding accumulation and hoarding of material goods! Living according to a one in one out policy or exchanging books with friends is an excellent way to get a good recommendation, share enjoyment and inspire a future conversation or passions.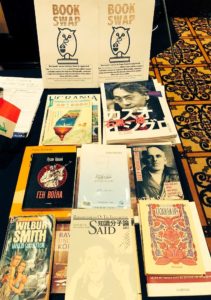 HAPPY HOLIDAYS AND A GREENER NEW YEAR!
Latest posts by Olivia Silverwood
(see all)