Feeding Berlin – The challenge of food waste!
December 6, 2018 @ 8:00 PM

-

11:30 PM
Germany throws away 1/3 of all food every year – that's over 300 kilograms per second. It's not just food wasted during production, but more so the food being thrown out in our homes, in our restaurants, and in our supermarkets. But which opportunities are there to avoid this waste or transform it into something useful?
Join us at this event to learn how Berlin startups are addressing this issue, how local-level policy can help, and how each of us can make a difference in our personal lives. There will even be a chance to try snacks created by local food rescuers.
This is the first of the series of events on Food – come and share what food topics GreenBuzz should tackle as the series continues!
*We do have limited spaces at this venue. Make sure you register on Eventbrite and come on time. When its full, its full.*
*Speakers*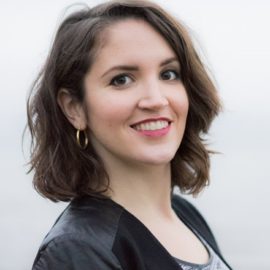 Franziska Lienert: Too Good To Go - saving food from being wasted
Academic career: Bachelor in Musicology and German Studies at Ruprecht-Karls-Universität Heidelberg and Universidad de Salamanca Master in Communication and Culture Management at Zeppelin Universität Professional career: Communications Manager at Social Business Head of own festival , including Foodsharing as part of catering Event Manager of sustainability award show Since September 2017 Marketing and PR Manager at Too Good To Go
About Too Good To Go GmbH: 1/3 of all produced food is being wasted. But there is a solution! Too Good To Go is the number 1 app for fighting foodwaste. It is our goal that all food produced equals food consumed. Through the free app all food selling stores (restaurants, cafés, supermarkets, hotels, bakeries...) can sell the food that couldn't be sold during the day in the app for a reduced price and nothing has to be wasted. That's good for everyone: the customer gets a delicious meal for a low price, the store doesn't have to waste perfectly great food and above all the environment doesn't suffer. Win-Win-Win!
About the talk: The talk will outline the current situation of foodwaste and the impact it has regarding climate change. As a solution to this global challenge the app for foodsaving Too Good To Go will be introduced. Simple digital solutions like the app play a crucial role in modern society and can be used for a more sustainable future.
Timo Schmitt
Active since 2008 against food waste. As a graduate in ecotrophology, I has been working for the Berliner Tafel since 2010. In addition to the establishment of a nutrition education project for children and adolescents, since five years chiefly responsible for food hygiene, quality management and campaign work of the Berlin Tafel against food waste. Also active in the same area for numerous other food savers. Member of the Berlin Food Council especially for the topics neediness, food appreciation and food sovereignty.
About Berliner Tafel: Berliner Tafel e.V., founded as a non-profit organization in Berlin, is the oldest Tafel in Germany. Since 1993, the members, helpers of Berliner Tafel e.V. have been collecting donated food and passing it on to more than 300 social institutions in the capital. About 600 activists of the Berliner Tafel collect food, sort and distribute up to 600 tons per month. The Berliner Tafel thus reaches over 125,000 Berliners every month - one third of them are children and adolescents.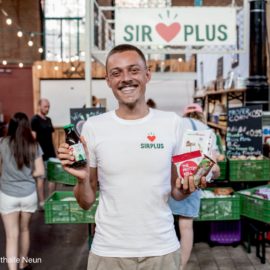 Raphael Fellmer: From dumpster diver to Social Entrepreneur
The initiator is Raphael Fellmer, who has been campaigning against food waste since 2009. More than 35.000 food savers have already committed themselves to the cause through the movement foodsharing he founded.
About SIRPLUS UG: SIRPLUS is a supermarket that sells food, which has been sorted out by other players along the supply chain. We revolutionize the food saving through our rescuer markets in Berlin including online shop & nationwide delivery service, as well as digital marketplace for excess food. Our mission is to end food waste and create awareness of the value of all food.
About the talk: Raphael Fellmer is a passionate social entrepreneur and co-founder of the Berlin Impact Startup SIRPLUS which is saving surplus food along the value chain and sells it via food outlet stores and an online shop. Raphaels goal is to make foodsaving mainstream and to raise appreciation for all food. Since 2009 he is tackling food waste and lived 5 years in a "money strike" to create awareness for food waste and how everyone can live more sustainable and easily reduce one's carbon footprint. He is co-founder of foodsharing, a voluntary movement of more than 45.000 foodsavers who saved already 20 Mio. kilograms of surplus food in Austria, Switzerland and Germany. The Berlin based father of two kids is author, keynote speaker and famous for his engagement and media presence against waste and for a sustainable world in which everyone can pursue his dreams and unfold their potential.
*Marketplace / Food*
– The Real Junkfood Projekt
– Restlos Glücklich
– SirPlus
– Foodsharing
*Agenda*
19.00 Open Doors & Networking
19:30 Opening, Presentations and Quickpitches
20:30  Marketplace with (rescued) Snacks, info stalls and time for networking
22:30 End
*Quickpitches*
There will be a quickpitch session after the presentations which gives you the opportunity to present your project/organisation/company/idea in 1 minute. Sign up below to get your information on our website!
Quickpitches of this event
A-team - Creating Solutions for PachaMama
Currys & Daal, to heal the world. Of course in Vegan, Bio and Fair Trade quality. We are cook collective organizing events / dinners to unite the human family. What more can unify than food, music and theatre!?? 50 % of our net Profit supports the PachaMama Family movement.

Contact: Arun Sunder Raj (email hidden; JavaScript is required)
Open Source Circular Economy e.V.
The Open Source Circular Economy Community promotes open source methodology for circular economy solutions by connecting innovative projects on an international platform and during yearly local hackathon. We identify, formulate and collect the core challenges of the future and encourage everyone to take part in their own way to find, share and adapt suitable solutions that work where they are.
One of the challenges we work on is how to build a sustainable circular food system. In Berlin we are connected to the Food Council and many other activists throughout the city.

Contact: Maike Majewski
Big Berlin Food Coop
We are creating a collaborative supermarket in Berlin, based on the successful model of Brooklyn's Park Slope Food Coop and its 17.000 members. Our goal: empower the Berlin community, support our farmers, and make healthy food accessible for all by means of co-ownership and participatory governance. Our motto: "Quality food at low prices through cooperation". Herein is also planned to work with different existing channels to avoid food waste and help people in need.

Contact: Robin Angele (email hidden; JavaScript is required)
*Our Host*
Venn balances city life with more space for community, personal growth, and social involvement. In addition to housing, their platform provides services, shared spaces, workshops, and communal activities made for bringing people together as neighbours.
This event will take place in their brand-new Berlin location.
Latest posts by Marco Blumendorf
(see all)