GreenBuzz Berlin is on a mission to find 100 Sustainable Solutions to present to you, our community. Our goal is to highlight interesting and innovative people, projects and companies that are working towards sustainability and to share the information and wisdom that is already out there. Now that we have introduced you to the first twenty solutions – in no particular order – we want to take a look back. And if you haven't followed our 100 Sustainable Solutions thus far, here is what you have been missing…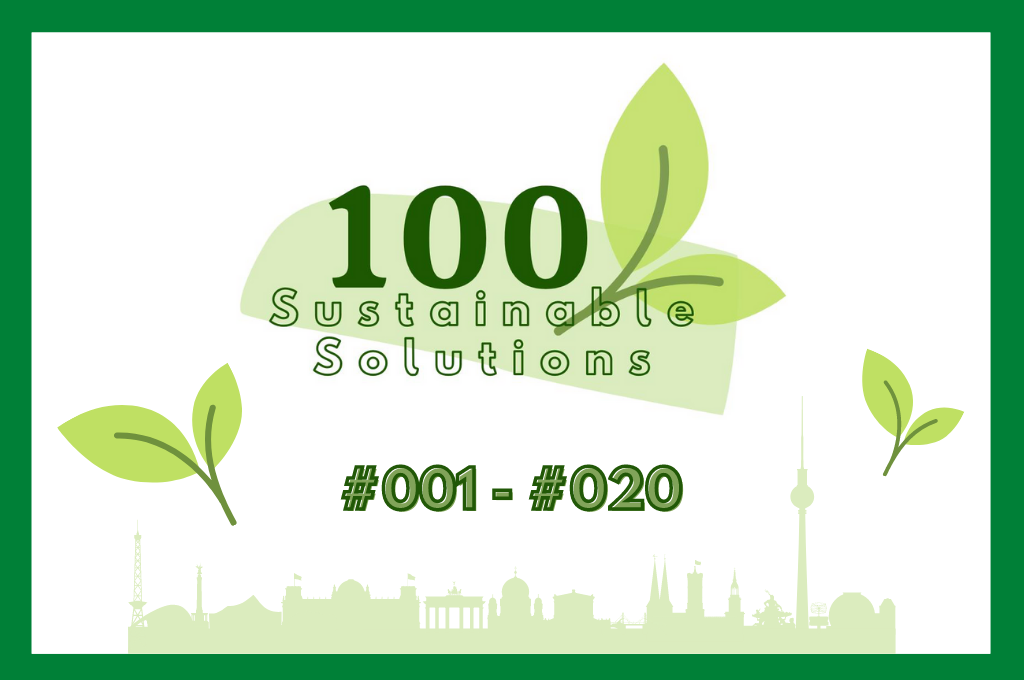 Food in your 'Kiez' – Urban farming, foraging and more.
Naturally, Berlin-based organisations have featured strongly as we want to introduce you to what's happening in your 'Kiez'. The Covid-19 pandemic has highlighted the importance of supporting local businesses as well as the complexity of our global food system. Thus it is perhaps not surprising that this is also reflected in our first twenty Sustainable Solutions. #004 Farmlyplace focuses on urban farming. #009 Edible Alchemy offers you insight into the world of fermentation and takes you on foraging walks around Berlin. And #018 Roots Radical is on a mission towards zero food waste in a circular food system.
We also introduced you to #014 robinhoodstore who, through their organic community supermarkets, set out to reorganize the economic system to end the most urgent global problems we face: climate change and inequality. And since food production is incredibly resource intensive, #001 Sirplus's "Rettermärkte" and online shop are reselling food which would otherwise go to waste.
Lockdown life and more.
With the seemingly endless lockdowns, the team from #020 Fyppit has decided to create an e-commerce platform to support sustainable local businesses by enabling them to sell products online with quick, emission-free deliveries across (select) Berlin neighbourhoods. If you took the opportunity to clean out your home, #016 Green Circle has created a platform for pre-loved local goods to find a new home and stay out of the landfill. In order to pay, why not use your debit card from #013 Tomorrow Bank? Their goal is to change the course of the industry by exclusively financing sustainable and social projects.
(Speaking of tomorrow, #003 Dycle may be interesting for those of you with little ones at home. Their "Garden soil instead of diaper waste" mission may be worth checking out!)
#008 Active Giving is giving you that extra bit of motivation to get off the couch and exercise by planting trees matching the number of kilometers you run – healthy body, healthy planet. After that, you deserve time on the couch playing video games (and still doing good) with #012 Players Beyond, while raising money for real life beach cleanups!
For now, the lockdown seems to continue. If you are conscious of streaming too much, check out #005 Plantyflix (now Treeferral) to balance it out by planting some trees. #015 Klima can also help you reduce and offset your personal carbon footprint, while #007 PlanA encourages you to take action on carbon reductions at your workplace. Or maybe your company wants to sponsor or install one of #002 Suncrafter's CityHubs and support the energy and mobility transition? Of course, we must be mindful that tree planting and carbon offsets won't save us and that individual carbon footprints are a tiny piece of a systems-wide struggle.
What's next?
So is all of this food and adventuring leaving you thirsty? Fear not, #006 soulbottles reminds us that drinking tap water, especially here in Berlin, is as good as it gets. As an official purpose cooperation, their mission is to reduce plastic pollution and they have a vision of clean drinking water for all, which they work towards with their partners. The educational programs and art installations of #019 Clean River Project demonstrates that (plastic) pollution of our rivers and oceans unfortunately still is a huge problem. Keep an eye out for their river clean-ups to start up again here in Berlin and across Germany! And once travel is allowed, maybe volunteering with #010 WEbuilding is right for you, especially if you're interested in (sustainable) architecture.
Feeling inspired by these Sustainable Solutions and looking for a place to connect with like-minded people to start something of your own? #011 Impact Hub Berlin may be just the sustainable co-working space you are looking for. We also spoke to #017 Zero Waste Berlin Festival, which will be the place to connect and learn from one another on June 19-20, 2021.
>>> While we ask about purpose, impact, and challenges, our main goal is to provide you with opportunities to get involved with every one of the solutions. We hope you have discovered something new, maybe implemented some sustainable changes, or found inspiration to make an impact on your own! If not, that's okay, too. We have 80 further Sustainable Solutions coming your way. Stay curious!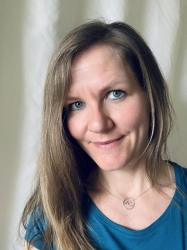 Latest posts by Sabine Zimmermann
(see all)